Greetings!
Welcome to the July e-newsletter for the TB Education & Training Resources Website (findtbresources.cdc.gov). The purpose of this monthly newsletter is to inform you about the featured Highlight of the Month, new additions to the database, and other updates to the Website .
Highlight of the Month
Ready to expand your knowledge and skills in TB education and training? Attend the 4th annual TB Education & Training Network (TB ETN) conference.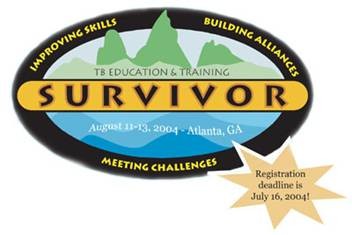 This year's conference theme is TB Education and Training Survivor: Improving Skills, Building Alliances, Meeting Challenges. Hosted by the Division of Tuberculosis Elimination, Centers for Disease Control and Prevention, the conference will be held August 11-13 in Atlanta, Georgia. You will learn about topics such as planning and training, materials development, and the role of technology in TB education and training. Break-out sessions and interactive activities will reinforce what you learn.
Go to: http://www.cdc.gov/nchhstp/Default.htm to view the draft agenda and register on-line for this FREE conference. The registration deadline is July 16th, so be sure to sign up soon.