Greetings!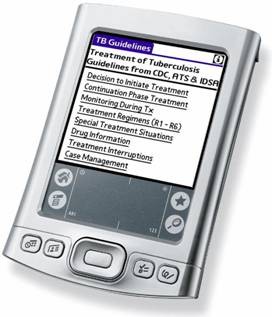 Welcome to the first e-newsletter for the TB Education & Training Resources Website (findtbresources.cdc.gov). The purpose of this monthly newsletter is to inform you about the featured Highlight of the Month, new additions to the database, and other updates to the Website .
Highlight of the Month
The TB Treatment Guidelines in PDA Format has just been released! Developed by CDC's Division of Tuberculosis Elimination, this interactive product for Palm OS devices provides current TB treatment guidelines for health care providers to assist them in making informed decisions at the point of care.
To access details about this FREE PDA application, please visit findtbresources.cdc.gov.
1) Explore
The Website includes a searchable database of Find TB Resources . You can search for materials by fields such as format and language.
You can also submit your materials, and much more!
2) Bookmark
Add it to your Internet Favorites list so you can easily return to the site.
3) Tell others
If the Website has been helpful to you, please let your colleagues know!
Please contact us if you have any questions or comments about the Website .
Email: info@findtbresources.cdc.gov