Greetings!
Welcome to this month's e-newsletter for the TB Education & Training Resources Website (findtbresources.cdc.gov). The purpose of this monthly newsletter is to inform you about the featured Highlight of the Month, additional helpful resources in the database, and other updates to the website.
Highlight of the Month
This month's highlight is the What is Tuberculosis?. brochure from the U.S. Committee for Refugees and Immigrants. The brochure provides general information on TB for refugees and immigrants. It discusses how TB is spread, the differences between latent TB infection and active TB disease, drug resistance, treatment, and what to do if exposed to TB. The brochure comes in eight languages: Arabic, Burmese, English, Karen, Kirundi, Russian, Somali, and Vietnamese.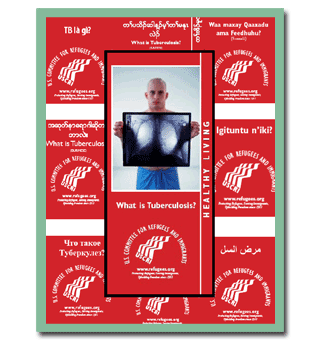 Check out: Tips for Adapting Tuberculosis Educational Materials! On this page, you will find tips and resources to consider when evaluating and adapting materials.
Do you have TB education or training materials you would like to share? You can submit materials to our database electronically! For more information, visit findtbresources.cdc.gov.