Greetings!
Welcome to this month's e-newsletter for the TB Education & Training Resources Website (findtbresources.cdc.gov). The purpose of this monthly newsletter is to inform you about the featured Highlight of the Month, additional helpful resources in the database, and other updates to the website.
Highlight of the Month
This month's highlight features presentations from the Multidrug-Resistant Tuberculosis (MDR TB) and Extensively-Drug Resistant (XDR) TB: A Web-based Seminar. Included are the PowerPoint slides, along with the transcript and audio file of the presentations. The web-based seminar, originally held on August 17, 2007, was coordinated by the Division of Tuberculosis Elimination, Centers for Disease Control and Prevention (CDC) in joint sponsorship with the Francis J. Curry National Tuberculosis Center, Heartland National Tuberculosis Center, Southeastern National Tuberculosis Center, and New Jersey Medical School Global Tuberculosis Institute. The archived presentation files provide information on MDR/XDR TB epidemiology, laboratory diagnosis, prevention and treatment principles, and contact management.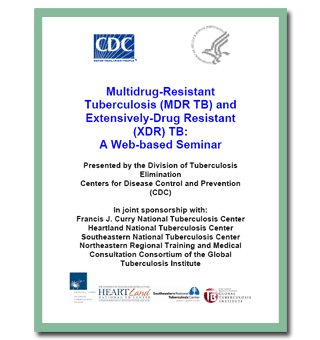 Check out: Tips for Adapting Tuberculosis Educational Materials! On this page, you will find tips and resources to consider when evaluating and adapting materials.
Do you have TB education or training materials you would like to share? You can submit materials to our database electronically! For more information, visit findtbresources.cdc.gov.