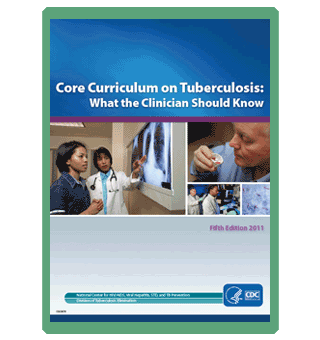 Greetings!
Welcome to this month's e-newsletter for the Find TB Resources Website (findtbresources.cdc.gov). The purpose of this monthly newsletter is to inform you about the featured Highlight of the Month, additional helpful resources in the database, and other updates to the website.
Highlight of the Month
This month's highlight is the Core Curriculum on Tuberculosis: What the Clinician Should Know, from the CDC Division of TB Elimination. The Core Curriculum is intended for use as a self-study guide or reference manual for clinicians and other public health professionals caring for people with or at high risk for TB disease or infection. This updated version reflects new U.S. guidelines for TB prevention, treatment, testing, diagnosis, patient management, and public health practice.
Print copies of the Core Curriculum will be available for ordering by the end of October.
Do you have TB education or training materials you would like to share? You can submit materials to our database electronically! For more information, visit findtbresources.cdc.gov.