Print Version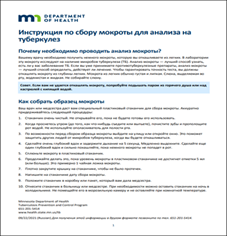 Инструкция по сбору мокроты для анализа на туберкулез [Instructions for Collecting Sputum for TB]
Author:
Minnesota Department of Health Tuberculosis Program
Country of Origin:
United States
Abstract
This fact sheet explains to patients the reason for a sputum test and contains step-by-step directions for giving a sample of sputum.
Publisher:
Minnesota Department of Health Tuberculosis Program
Audience(s):
Foreign Born/Immigrants, General Public, Persons with TB
Topic:
Diagnosis, Diagnosis- Sputum Smear Examination
Notes:
This fact sheet is available in English, Amharic, Arabic, Bosnian/Croatian/Serbian, Dari, French, Karen, Khmer (Cambodian), Hmong, Laotian, Nepali, Oromo, Pashto, Russian, Somali, Spanish, Tibetan, and Vietnamese. Please check this organization's website to find information about this material in other languages.

Disclaimer: The information on the Find TB Resources Website is made available as a public service. Neither the Centers for Disease Control and Prevention nor the National Prevention Information Network endorses the organizations, Website s, and materials presented. It is the responsibility of the user to evaluate this information prior to use based on individual, community, and organizational needs and standards.