Print Version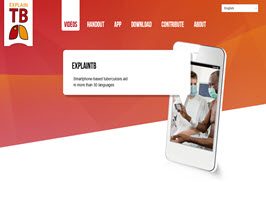 ExplainTB Mobile TB Aid
Country of Origin:
Germany
Language:
Croatian, Danish, English, French, German, Greek, Hungarian, Macedonian, Dutch, Persian, Polish, Portuguese, Romanian, Russian, Serbian, Slovak, Spanish
Abstract
ExplainTB is a mobile app that provides written and audiovisual education for TB patients, relatives, and others. The app has over 40 chapters of TB information available in more than 30 languages.
Audience(s):
Health Educators/Communicators, Health Professionals, Outreach Workers
Topic:
Diagnosis, Training Programs, General TB Information, Treatment- TB Disease, TB Treatment, Comprehensive TB Material
Notes:
The ExplainTB website also has a feature that allows users to create customized bilingual handouts.

Disclaimer: The information on the Find TB Resources Website is made available as a public service. Neither the Centers for Disease Control and Prevention nor the National Prevention Information Network endorses the organizations, Website s, and materials presented. It is the responsibility of the user to evaluate this information prior to use based on individual, community, and organizational needs and standards.