Print Version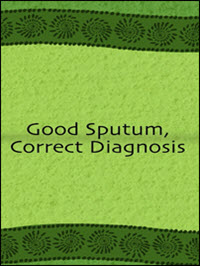 Good Sputum, Correct Diagnosis [Sputum Collection]
Country of Origin:
United Kingdom
Abstract
In this video, viewers are taught what sputum is and are walked through steps to collect a good and testable sample. These short, animated instructions are designed to help people produce good sputum specimens for TB diagnosis. They can be shown just prior to submitting sputum (e.g., spot samples, home visits, morning samples).
Publisher:
In Tune for Life
Audience(s):
General Public, Health Educators/Communicators
Topic:
Diagnosis, Diagnosis- Sputum Smear Examination
Notes:
This material is available in Portuguese, Makuwa, Sena (Cisena), Changana, Chuabo, Bemba, Shona, Northern Ndebele, Chichewa, Luo, Swati, French, Malagasy, San (Ju/'hoansi), Luganda, isiXhosa, isiZulu, Sesotho, and Setswana.

Disclaimer: The information on the Find TB Resources Website is made available as a public service. Neither the Centers for Disease Control and Prevention nor the National Prevention Information Network endorses the organizations, Website s, and materials presented. It is the responsibility of the user to evaluate this information prior to use based on individual, community, and organizational needs and standards.