Print Version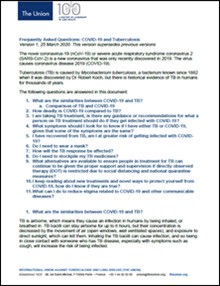 COVID-19 and Lung Health: Frequently Asked Questions
Country of Origin:
France
Abstract
This wepage provides information on the similarities between COVID-19 and tuberculosis, wearing a mask, reducing stigma, and more. The document is also available in English, French, Spanish, Russian, Polish, and Chinese.
Audience(s):
Educators, General Public, Health Educators/Communicators, Health Professionals, Persons with TB
Topic:
Advocacy/Communications, Infection Control, TB Treatment, Treatment- Patient Adherence
Notes:
Under FTBR links the URL type was not indicated. This is now updated.

Disclaimer: The information on the Find TB Resources Website is made available as a public service. Neither the Centers for Disease Control and Prevention nor the National Prevention Information Network endorses the organizations, Website s, and materials presented. It is the responsibility of the user to evaluate this information prior to use based on individual, community, and organizational needs and standards.