Print Version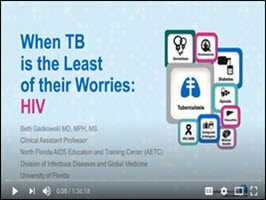 When TB is the Least of Their Worries: HIV webinar
Author:
Southeastern National Tuberculosis Center, SNTC
Country of Origin:
United States
Abstract
The webinar presents information on the common difficulties for TB case management for patients with HIV. The webinar also defines the epidemiologic link between HIV and TB. Additionally, the webinar describes how to incorporate HIV testing and referral to care as part of targeted testing and treatment of latent TB infection.
Publisher:
Southeastern National Tuberculosis Center
Audience(s):
Health Professionals, Medical and Nursing School Students, Medical Students
Topic:
HIV/AIDS Co-infection, TB Treatment, Treatment- TB Disease
Notes:
https://youtu.be/5rtC1HWjd_A

Disclaimer: The information on the Find TB Resources Website is made available as a public service. Neither the Centers for Disease Control and Prevention nor the National Prevention Information Network endorses the organizations, Website s, and materials presented. It is the responsibility of the user to evaluate this information prior to use based on individual, community, and organizational needs and standards.