Print Version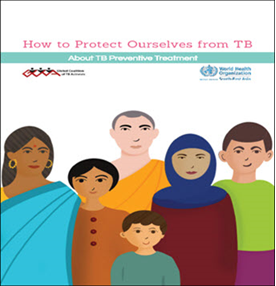 How to Protect Ourselves from TB- About TB Preventive Treatment
Author:
Global Coalition of TB Activists, World Health Organization (WHO)
Abstract
The resource includes information on TB preventive treatment, including who needs TB preventive treatment, treatment options, and frequently asked questions for people living with HIV.
Publisher:
World Health Organization (WHO)
Audience(s):
Health Educators, Health Educators/Communicators, Persons With LTBI
Topic:
General TB Information, HIV/AIDS Co-infection, Persons with Latent TB, TB Treatment, Treatment- Latent TB Infection
Disclaimer: The information on the Find TB Resources Website is made available as a public service. Neither the Centers for Disease Control and Prevention nor the National Prevention Information Network endorses the organizations, Website s, and materials presented. It is the responsibility of the user to evaluate this information prior to use based on individual, community, and organizational needs and standards.