Print Version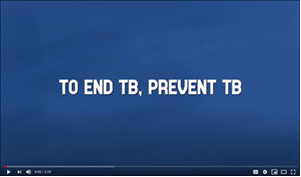 To End TB- Prevent Tuberculosis
Author:
World Health Organization (WHO)
Abstract
This video encourages young children and household contacts of TB patients to adhere to TB treatment to help prevent TB.
Publisher:
World Health Organization (WHO)
Audience(s):
Asians/Pacific Islanders, Children/Adolescents, Educators, Families, General Public, Health Educators/Communicators, Parents/Families, Persons With LTBI, Persons with TB
Topic:
Older Adults, Persons with Latent TB, TB Treatment, Treatment- Latent TB Infection, Treatment- Patient Adherence, Treatment- TB Disease
Notes:
The video was created by the WHO Regional Office for South-East Asia.

Disclaimer: The information on the Find TB Resources Website is made available as a public service. Neither the Centers for Disease Control and Prevention nor the National Prevention Information Network endorses the organizations, Website s, and materials presented. It is the responsibility of the user to evaluate this information prior to use based on individual, community, and organizational needs and standards.