Print Version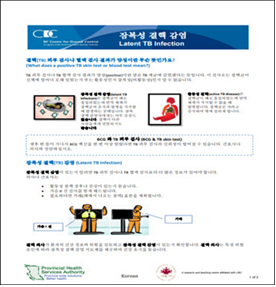 잠복성 결핵 감염 [Latent TB Infection]
Author:
British Columbia Centre for Disease Control
Country of Origin:
Canada
Abstract
This 2-page document provides information on latent TB infection, what a positive TB skin or blood test means, latent TB infection treatment, and various myths and fears about latent TB infection.
Publisher:
British Columbia Centre for Disease Control
Audience(s):
General Public
Topic:
Diagnosis, Diagnosis- Skin Test, TB Skin Testing
Notes:
This resource is available in English, Chinese, French, Korean, Punjabi, Spanish, Tagalog, and Vietnamese.

Disclaimer: The information on the Find TB Resources Website is made available as a public service. Neither the Centers for Disease Control and Prevention nor the National Prevention Information Network endorses the organizations, Website s, and materials presented. It is the responsibility of the user to evaluate this information prior to use based on individual, community, and organizational needs and standards.