Print Version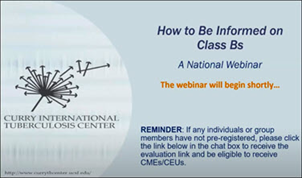 How to Be Informed on Class Bs
Author:
Curry International TB Center
Country of Origin:
United States
Format:
Webinar/Webcast/Podcast
Abstract
In this 90-minute webinar, speakers provide an overview of follow-up and evaluation activities for persons arriving to the United States with a Class B notification for a TB condition.
Publisher:
Curry International TB Center
Audience(s):
Civil Surgeons, Health Professionals
Topic:
Foreign Born/Immigrants
Disclaimer: The information on the Find TB Resources Website is made available as a public service. Neither the Centers for Disease Control and Prevention nor the National Prevention Information Network endorses the organizations, Website s, and materials presented. It is the responsibility of the user to evaluate this information prior to use based on individual, community, and organizational needs and standards.