Print Version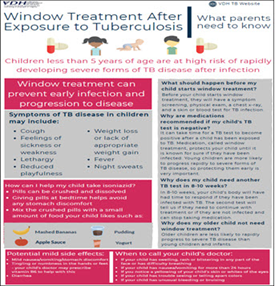 Window Treatment After Exposure to Tuberculosis: What Parents Need to Know
Author:
Virginia Department of Health TB Program
Country of Origin:
United States
Abstract
The fact sheet includes information on window treatment for children after exposure to TB, such as how to help a child take isoniazid, potential side effects, and when to call a child's doctor. The material also lists symptoms of TB disease in children.
Publisher:
Virginia Department of Health,Division of Tuberculosis Control
Audience(s):
Parents/Families
Topic:
Children, TB Treatment
Disclaimer: The information on the Find TB Resources Website is made available as a public service. Neither the Centers for Disease Control and Prevention nor the National Prevention Information Network endorses the organizations, Website s, and materials presented. It is the responsibility of the user to evaluate this information prior to use based on individual, community, and organizational needs and standards.