Print Version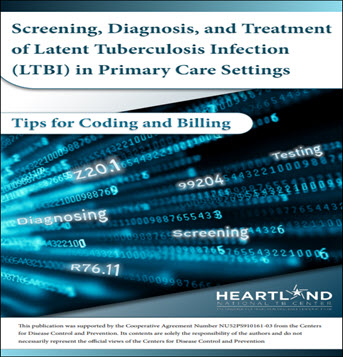 Tips for Coding and Billing- Screening, Diagnosis, and Treatment of Latent Tuberculosis Infection (LTBI) in Primary Care Settings
Author:
Heartland National Tuberculosis Center
Country of Origin:
United States
Abstract
This guide was developed for use by attending physicians and nurses in the primary care setting. The material provides information on various topics related to LTBI, including screening, diagnosis, treatment, and more.
Publisher:
Heartland National Tuberculosis Center
Audience(s):
Civil Surgeons, Health Professionals, Physicians
Topic:
Diagnosis, Treatment- Latent TB Infection
Disclaimer: The information on the Find TB Resources Website is made available as a public service. Neither the Centers for Disease Control and Prevention nor the National Prevention Information Network endorses the organizations, Website s, and materials presented. It is the responsibility of the user to evaluate this information prior to use based on individual, community, and organizational needs and standards.