Print Version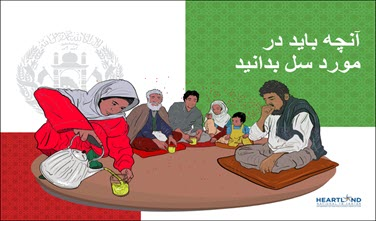 What You Need to Know About Tuberculosis (Dari)
Author:
Heartland National Tuberculosis Center
Country of Origin:
United States
Abstract
The flipbook can be used by health care workers to provide basic information on latent TB infection and active TB disease. The flipbook is available in Dari and can be used while working with patients and families from the Afghan refugee community.
Publisher:
Heartland National Tuberculosis Center
Audience(s):
Health Educators/Communicators, Health Professionals, Medical and Nursing School Students, Medical Students, Outreach Workers, Physicians
Topic:
Children, Cultural Competence, Foreign Born/Immigrants, General TB Information, Persons with Latent TB, Pregnancy
Disclaimer: The information on the Find TB Resources Website is made available as a public service. Neither the Centers for Disease Control and Prevention nor the National Prevention Information Network endorses the organizations, Website s, and materials presented. It is the responsibility of the user to evaluate this information prior to use based on individual, community, and organizational needs and standards.