Print Version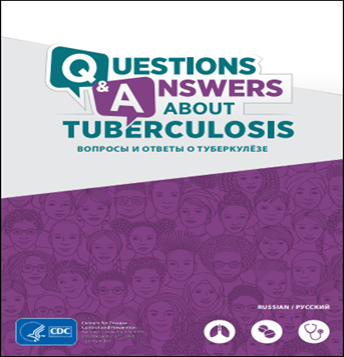 ВОПРОСЫ И ОТВЕТЫ О ТУБЕРКУЛЁЗЕ [Questions and Answers About Tuberculosis]
Author:
Centers for Disease Control and Prevention (CDC), National Center for HIV/AIDS Viral Hepatitis STD and TB Prevention, Division of Tuberculosis Elimination
Country of Origin:
United States
Abstract
This booklet provides information on the diagnosis and treatment of TB infection and TB disease. Key audiences for this resource are people with or at risk for TB; people who may have been exposed to someone with TB; people who provide services for those at high risk for TB, such as correctional officers, homeless shelter workers, and emergency responders; and people who want to learn more about tuberculosis.
Publisher:
Centers for Disease Control and Prevention,National Center for HIV STD and TB Prevention,Division of Tuberculosis Elimination
Audience(s):
Correctional Facility Staff, Foreign Born/Immigrants, General Public, Persons with HIV/AIDS, Persons With LTBI, Persons with TB
Topic:
Diagnosis, Diagnosis- Skin Test, General TB Information, HIV/AIDS Co-infection, Persons with Latent TB, TB Skin Test, TB Treatment, Treatment- Adverse Reactions, Treatment- Directly Observed Therapy (DOT), Treatment- Latent TB infection (Inactive TB), Treatment- Medication Information, Treatment- TB Disease
Disclaimer: The information on the Find TB Resources Website is made available as a public service. Neither the Centers for Disease Control and Prevention nor the National Prevention Information Network endorses the organizations, Website s, and materials presented. It is the responsibility of the user to evaluate this information prior to use based on individual, community, and organizational needs and standards.