Print Version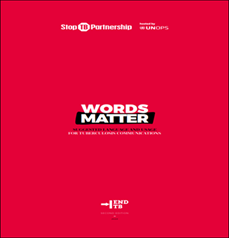 Words Matter Language Guide
Author:
Stop TB Partnership
Country of Origin:
Switzerland
Abstract
Words Matter is a tool for TB communications. The first section is an index that lists the words and terms found in the resource. The second section is a language guide that provides recommended terms. The third section is a glossary of words and terms.
Publisher:
Stop TB Partnership
Audience(s):
Health Educators/Communicators, Health Professionals, Policy Makers
Topic:
Advocacy/Communications, General TB Information, Tuberculosis (TB)
Notes:
Every Word Counts is the first edition of the guide.

Disclaimer: The information on the Find TB Resources Website is made available as a public service. Neither the Centers for Disease Control and Prevention nor the National Prevention Information Network endorses the organizations, Website s, and materials presented. It is the responsibility of the user to evaluate this information prior to use based on individual, community, and organizational needs and standards.