Print Version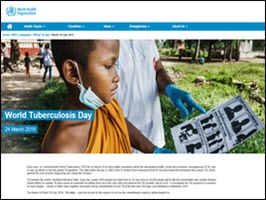 World TB Day 2019 Campaign Site
Author:
World Health Organization
Country of Origin:
Switzerland
Abstract
The World Health Organization (WHO), in partnership with the Global Fund and Stop TB Partnership, has launched the initiative "Find. Treat. All. #EndTB." The campaign site includes more information about the initiative, social media tiles, and other TB-related links.
Publisher:
World Health Organization
Audience(s):
General Public
Topic:
Advocacy/Communications
Disclaimer: The information on the Find TB Resources Website is made available as a public service. Neither the Centers for Disease Control and Prevention nor the National Prevention Information Network endorses the organizations, Website s, and materials presented. It is the responsibility of the user to evaluate this information prior to use based on individual, community, and organizational needs and standards.